The Problem:
While in the middle of planning for a subdivision/ road construction project in beautiful Airlie Beach in the Whitsundays the customer came across an issue. A seasonal creek crossing that a times can get some serious water flow off the surrounding hills, especially in the cyclone season!
Our Solution:
By chance Jarrod stumbled across Padman Water Solutions products which he describes as "heavy duty beasts!".
After chatting with Jarrod, Shawn Padman our GM felt our MaxiFlow 1200 – 2 piece crossing was the perfect solution to his problem. It allows for high flows, equivalent to that of a 825mm pipe, is easy enough for the customer to install himself and would be finished and ready to drive over straight away.
Installation is quick and easy
Lay out compacted coarse sand or crushed rock to ensure a flat base and good load bearing.
Place the first culvert piece down, followed by the second piece over the lip of the first. The advantage over pipe is that they come as an all in one piece. The base, headwall and culvert are all attached, you just need to join each piece together.
Cover with backfill and compact down.
Now you're crossing is ready to drive over immediately.
Outcome:
Jarrod says "they couldn't be easier to install, did it myself. Flow rates are impressive, with less chance of debris getting stuck and silting it up. Perfect for our needs. Shawn and the team were more than happy to help and sorted the order and transport in no time. Highly recommend, thanks guys!"
We wish Jarrod all the best with his subdivision project and look forward to working with him again in the future. Enjoy your Padman Esky full of beer!
Find out how you too can get your hands on one of these MaxiFlow driveway crossings and in turn get a FREE Esky Full of Beer – click here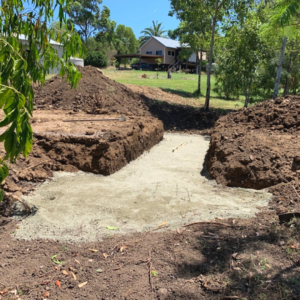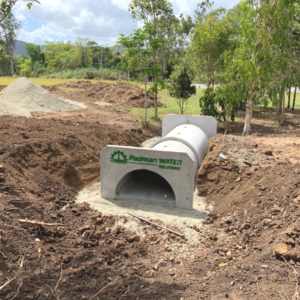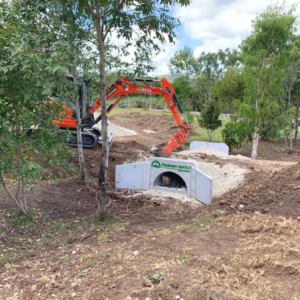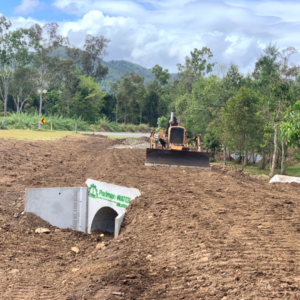 Follow us on Facebook for regular updates, tips and tricks for your drainage, irrigation and farm automation need – click here